Geylang District Lamrim Classes ~ Lantern Festival Grand Gatherings II
13/8/2019 BW Monastery Geylang Centre held a Lantern Festival Grand Gathering for every Tuesday Lamrim class students, where the response was overwhelming. 17 classes participated, that had over 200 students attended. The programme started at 5pm with health stations (health screening/massage/energy healing), with 35 Budhhas Confession Practice on the 2nd floor, and lantern riddles on the 3rd floor.
At 6.45pm, everyone gathered on 3rd floor with Venerable Dao Ci leading a vast offering and gave an opening speech to set the motivation for everyone.
The students then enjoyed the wide spread and delicious food. Yes Natural Bakeries sponsored a variety of flavors of mooncakes that the students happily sampled.
The lecturers also guided a short discourse of Master Jih-Chang, who highlighted 2 conditions that are required for us to learn the Dharma and practise: virtuous teachers, and a healthy human life of leisure and opportunity. Master and teacher Zhen-ru's kindness to us are also established through Dharma Enterprises such as organic farming and Yes Natural Companies. They are the means to help us overcome unhappiness. While we want happiness, we would plant bad causes, thus, unable to eliminate suffering and acquire happiness. With the Dharma Enterprises such as Yes Natural, we now have the opportunity to create good causes through supporting the kindness propagated, lay the foundation of human life of leisure and opportunity, to create a happy and harmonious present and future lives, practising the Dharma, achieve high status of rebirth and ultimately attain perfect enlightenment.
Yes Natural demonstrated a healthy cuisine - "wheat germ mixed rice", which was yummy and rich in vitamin B1 and B2. The students got to sample the dish!

The event had riddle games where 2 friends had to come forward to answer the riddles to win prizes.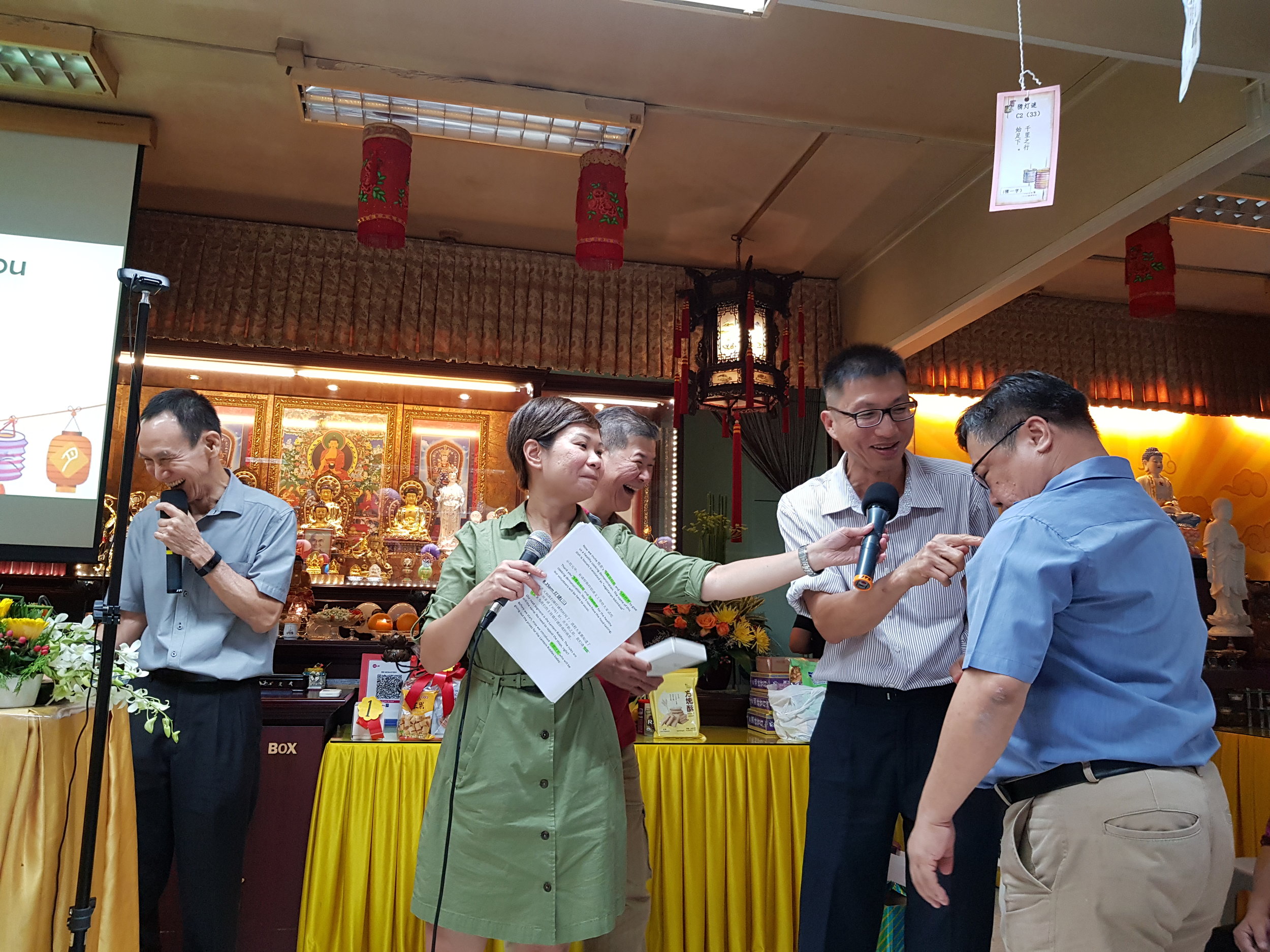 Three grand lucky draws were also the exciting and happy moments!
This second celebration (weekly Tuesday class), out of a total of six Grand Gathering of the Geylang Centre Lamrim classes, was successfully concluded. Hopefully it served to warm up and revive the energy of BW Monastery Geylang Centre.

Yanni, one of the attendees shared, "I enjoyed the gathering as there was a large group of us who came together to celebrate, and we got to know one another better, and learnt the Buddha's teaching that let us know more about how to create a harmonious and beautiful world. In fact, the most important thing is what the Venerable said, that how we could attain high status of rebirth life after life, because of the supportive environment, teachers, Dharma and virtuous friends. I can feel the great qualities of the teachers!

With the healthy food, let us have a healthy body to learn Dharma. At the end of gathering, when everyone sang "we are a family" together, it was really heartwarming. I hope everyone can follow our teachers to create a beautiful and happy world.